After our wine and cheese lunch and getting our learn on that the Louvre, we wandering around Paris because it was such a beautiful day.
So pretty here, you kind of just want to stand around and look at stuff...
We walked along the Seine for a minute getting accosted every 15 seconds by a gaggle of Gypsy children who wanted money because they were deaf and mute, they were just pointing and smiling. I couldn't get a picture of them but they were all over this bridge...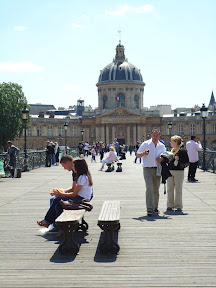 Except here is the thing, if you stand there for more than 3 seconds you see them coordinating their attack plan as they TALKED to each other! Worst Helen Keller impression ever!
Anyway, we kept walking along the Seine, there were little stalls everywhere selling trinkets and old books, people were sitting in a courtyard watching the French Open on a big screen.
I just love it here, it's jus such a different way to live...
I have to say I am getting pretty good with the directions in Europe, which is a shock considering I still get lost in my neighborhood. Anyway, we crossed the Bridge and arrived at Notre Dame...
It literally comes out of nowhere as you turn the corner...
It's just a beautiful building. Jeff wanted to find Quasimodo so we went inside to go find him, but not before a group photo in case we perished on our search...
We got inside and all we found was stained glass, it was rally giant beautiful stained glass...
But still! No Quasimodo...
We found this pretty chandelier. Jeff was supposed to ask one of the Priests where Quasimodo was but instead he asked them where Jedward was, IDIOT!
And then we stumbled outside to go get some food and THERE HE WAS QUASIMODO IN THE FLESH!!!!
What? Hello? Is This thing on? Tap tap, ehhem.
Soooo anyway, after seeing the sights we hit up the Champs Élysées for some dinner. It was definitely busy there but we found a cool little place called George V and we plopped our weary bones down. This place ended up being amazing...
I started off with my usual, escargot...
And Jeff and Adam both had the most amazing french onion soup, except here they just call it onion soup, weird...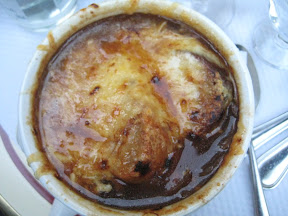 And Jeff got a steak for dinner and Bookie and I got Boeuf Bourginion. OMG it was beyond delicious...
After dinner we walked back up the Champs Élysées and through the Arc du Triomphe which is even more impressive at night. Another great night in Paris...
off to bed early because we are going to try and see the Catacombs in the morning.
Ahhh we're gonna perish!!! Bon Soirée!
Posted using BlogPress from my iPad
Location:Paris France