Last night after we stuffed our faces good and only had the one bottle of wine (I'm pretty sure I have left my liver in the Parisian gutters) we called it an early night because we were getting up super early to go to the Catacombs!!
This is something that I have wanted to do forever and I have just never had time, but this time I'm gonna get to go. I know it's nerdy but I kind of didn't sleep all that well because I was stoked, I know, I'm ridiculous.
Adam and Jeff dragged their butts out of bed super early so I could see it, Adam nearly yawned his head off a few times and Jeff, truth me told, I don't think Jeff enough knew this time of day existed (it was 9am for the record).
We hopped on the metro and figured out how to get there which was more confusing than I thought, but I'm getting better at navigating the Metro, and I must look French because people keep babbling to me in French asking for directions.
Sooo we finally get off at the stop and I can't find the entrance, ugh, I was super worried that we were gonna miss it. Adam and Jeff were less worried because they went to the cafe to get coffee and croissants.
Eventually I stumbled across the entrance, score!! Until I saw this...
Really?!? REALLY!?! Why the crap is it closed!!! It's not like the skulls are going anywhere. So ya long story short, we got F'ed...
I'm super SUPER bummed that we didn't get to go. The boys said let's go see the Eiffel Tower, bah! I WANNA SEE SKULLS!!
But alas I shed a tear and we got back on the metro to the Eiffel Tower. And as if I wasn't annoyed already some stupid musicians stood write next to me playing pipes and ukeleles or some crap like that.
Jeff just stared and giggled at me, but he didn't take a picture because we weren't gonna pay them. Eventually we got there...
No Jeff that is NYOT the Eiffel Tower! I might have been a little cranky about the Catacombs, and then I saw this sign...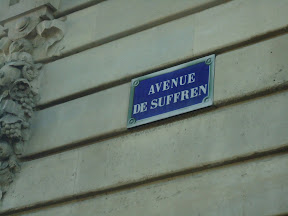 Yep that's about right! And then we turned the corner and saw the Eiffel Tower, and I gotta admit I cheered right up...
It's kind of impossible to be mopey when you see something like that...
Okay my mood had done a complete 180...
It's just so tall...
We are coming back tonight so we can try and watch the sunset from the top. If it is closed I am gonna cut someone...
Some people did try to ruin my newly found good mood, the crazy "deaf" gypsy girls were back ugh. This time I got a picture of her, after I told her to bugger off...
After ditching the Helen Keller brigade and the 400 guys selling crappy little Eiffel Towers...
We decided to pop over to a cafe for a bite...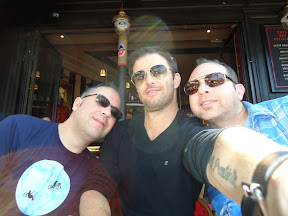 At cafes here you all sit on the same side so you can people watch it's super fun, and also what is super fun is this...
It's called a Panache and it is half beer, half lemonade and 100% delicious!!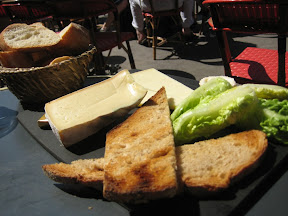 And of course we got cheese!
The boys are off to do some shopping, so I gave them the map and I'm heading home to print out our flight info as we are off to Dublin in the morning, and shopping is boring (yes I realize that makes me a terrible gay, but I make up for with my love of tight T-shirts and fruity cocktails!)
And good day!
-Posted using BlogPress from my iPad
Location:Not in the Catacombs, Paris