Thanks to Jeff's shenanigans we were once again a little slow moving. At this rate we may not make it to the end of the trip, because we are all 3 billograms away from renal failure. It was also laundry day for Jeff because this was the outfit he was originally going to wear...
We started off our day with a lovely breakfast at this place...
Where's Art!?! Ehhem ehhem, tap tap is this thing on?
They had lovely food here and pretty great music...
But then all we heard was "the sounds of silence"
It is NYOT easy to do a Simon & Garfunkel bit, shut it!!
After breakfast we headed over to The Tower of London...
It's really old and they use to use it for torture among other things...
That gate behind me is the old entrance to the tower, it's called Traitor's gate, fancy...
And speaking of torture, Jeff and Adam were as happy as ever...
Idiots!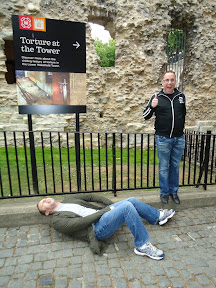 And there was also some randomness, like this dragon made of flags and armor pieces and coins, super crazy...
It didn't care for Jeff, I don't blame it...
And there were these baboons made of metal fencing, I have no idea, don't ask...
The boys were very shenanigan-filled today...
Not that I can really talk because I was doing my own bits...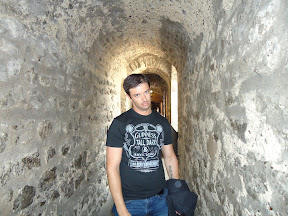 Worst Carousel ever!
My what big balls you have...
And what a large cannon as well...ya I know we're idiots, meh...
Euro...
Blam!
Now we are off across the Tower Bridge...
To go to the London Dungeon...
Which is apparently very scary...
And I am very uneasy about it...
I love horror movies, I just don't want to be in them. So I may perish and if I do, I hope you have enjoyed the blog, Blam!
Posted using BlogPress from my iPad
Location:London, England