We woke up this morning well rested. I felt like Rip Van Winkle waking up from a 100 year nap.
After a delicious breakfast at the Lodge we strolled outside and the view in the morning was just beautiful...
I could get used to a view like this...
It's so relaxing and tranquil here that it just forces you to slow down...
Relaxed Monkey Arms...
And right next door to our hotel is this place, so there is just the right amount of crazy...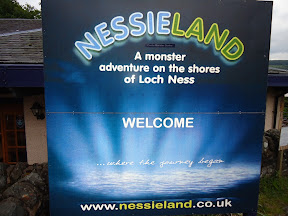 It is a ridiculous gift shop and "theme park"...
That castle is pretty much the entire theme park, meh. But on the positive side we did find Nessie!!! She was lovely and even took me for a ride...
She didn't care for Jeff though, that's a shame...
But it was time to say goodbye and head off to the train station to head to Glasgow...
Goodbye Loch Ness, take care Nessie, we'll see you soon...
At the train station, Jeff managed to find this! Either we can go to Glasgow or we can go to Keith hmm it's a tough one...
But we opted for Glasgow. And apparently that was the wrong choice because we ended up on a train that broke, F!
It's never a good sign when the conductor is wandering about trying to find out what the problem is...
Now we are currently sitting on the train while they assess the problem...
Oh and we had a 15 minute connection that we are clearly going to miss, maybe we should have gone to Keith...
F!!!
Posted using BlogPress from my iPad
Location:Somewhere, Scotland