Since we only have a few more nights in London we want to make sure we enjoy it and since it was the start of the weekend, Alex and Alban were going to meet up with us for another night of shenanigans...
I love these boys they are so much fun!
If you recall from their last night out with us, they are crazy of course they are, but in the best possible way. The plan was to grab dinner and then hit up some bars but then a thing happened.
It started to pour down buckets again so we hopped into a bar for "one drink". See where this is going? Also at the bar a few of my other friends from Uni showed up.
Mark is an awesome guy from Belfast...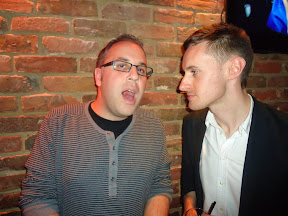 And Russell. I haven't seen these guys in years so it was awesome to se them. So of course the drinks started flying...
And then Jeff and Adam ditched me to run down the street and grab some food because they were perishing, bastards!
This turned out to be a brilliant idea as you will soon see. I of course was a few pints in and chatty Kathy so I figured I'd be fine, ugh!
So after we drank our way through the bar we decided it was time to go dancing at a club called Popstars. Of course it was still pouring and our little gaggle of gays had no idea where we were going...
So we decided to hop into some crazy rickshaws because that worked out so well last time...
Jeff and I rode together...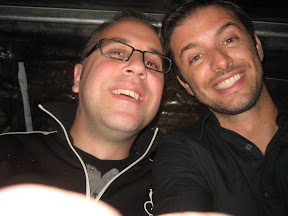 And thankfully we made it to the bar with only getting minimally drenched...
At the club Alban was of course all over the place. That guy cracks me up, he is like the Energizer bunny. Consequently that is him giving me the bunny ears...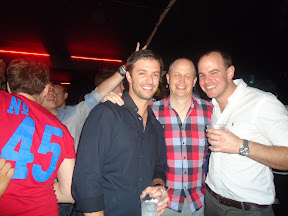 It's been great catching up with all my old friends from school...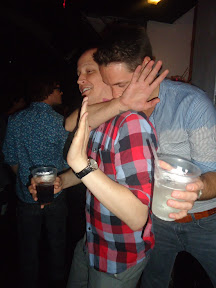 And showing the boys why I loved living here so much...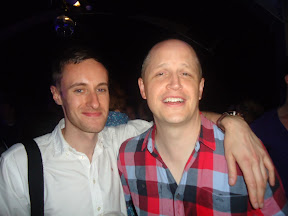 But this is the last picture of me smiling, it turns out that 6 pints on no food makes Keith a wee drunk. So on the walk home from the club the boys thankfully stopped so I could eat...
They might have been a little tired...
And I might have been a little perishy...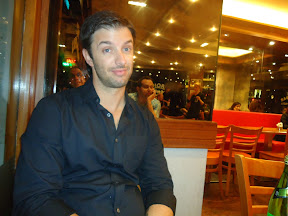 Or a lot! Apparently I fell asleep in the elevator at the hotel, F!
Euro Blam! Off to bed. Tomorrow is our last day in the city and the boys have something secret planned for me. I am VERY uneasy about this!
Posted using BlogPress from my iPad
Location:Back in the London Gutters Again