After wandering around all day we stopped at a Milkshake shop that Connor O'Connor told us to check out, and thank god we did because I got this...
It was called Monkey Business which seemed about right and it pretty much tasted like Cold Diabetes it was so sweet. It was amazing!
We stopped back at the room so Ethel and Mabel (aka Bookie and Jeff) could take a nap. If I'm not mistaken Jeff actually fell asleep mid sentence. You're doin great buddy!
Tonight Connor and his girlfriend Fiona are taking us out to dinner and then out on the town, which clearly means shenanigans a plenty are coming...
We got to the first pub before dinner and went down to the basement bar...
It was really dark down there all the walls were painted black...
How do I know they were painted black you ask? Because this happened...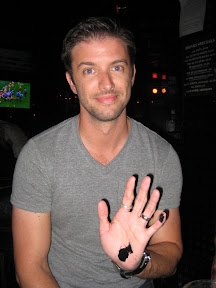 REALLY?!? Who paints a bar when people are going to be there! Idiots!! And of course I found it. Tonight was shaping up to be a disaster and it wasn't even dark yet.
We then went over to the restaurant to meet Fiona and of course she was just as lovely and nice as Connor...
they are so nice here! And the meal was amazing...
Mmm prawn cocktail...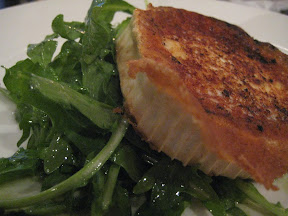 And some grilled goat cheese and pesto...
And fresh sea bass! It was delicious. We stayed there for about 3 hours talking...and drinking. Obviously it was time for sed shenanigans. We bounced around to a few pubs before going to the George for dancing...and more drinking...
The first song we heard was Lipstick by Jedward so clearly we found the right place...
This place was packed and also a little crazy but since we already drank Ireland, so were we...
I think Jeff is raising the roof, I'm not really sure.
This is the point when things got fuzzy so we'll do an O'Photo O'Essay...
Euro Blam!
No more drinks!!! Okay maybe just the one, O'oh O'God...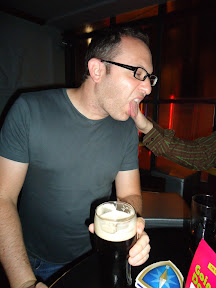 Bookie and Jeff were up to their usual shenanigans...
I've got arms!
Burp...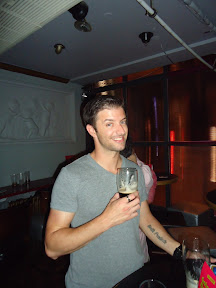 I'm trying to not look drunk, I just looked confused which sounds about right...
DRINK IT!!!!!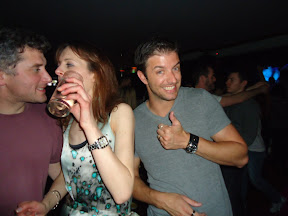 Did I mention that we love Connor and Fiona?
Do not make me pull this car over you two!
When I look like this it is clearly time to go...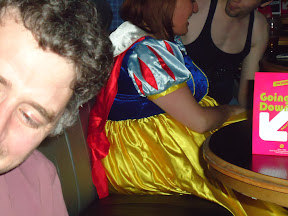 And also it was time to go because cartoon characters started showing up, what is happening?!?
I think that one is an M&M?
Ya time to go, so we said goodbye to Connor and Fiona and walked to the Burger place just down the road. The place was bananas!! Everyone was super smashed and there was a security guard that messed with Jeff.
As Jeff was going down the stairs to the bathroom, the security guard told him to be careful because there were two big dogs down there but he should be fine. Jeff looked freaked out and as soon as he left the guard started cracking up, it was kind of amazing!
Here is a sneak attack pic, hi he was super crazy!
Now we are off to bed, before sunrise!! Woohoo!! The plan for tomorrow is to meet up with Connor and Fiona to go the Guinness Factory. Yay more beer! Ugh...or....
- Posted using BlogPress from my iPad
Location:Dublin, Ireland