After my lovely nap, Jeff and Adam came home from shopping, Jeff bought the most amazing and also ridiculous clock, hand made by a guy named Monsieur Camembert, I kid you not.
We grabbed a quick bite to eat and Adam made the mistake of stopping by this store...
That's a shame! Then we headed off to the Eiffel Tower...
I planned an 8.30 tour because I wanted to see if we could catch the Sunset. It was beyond packed when we got there though...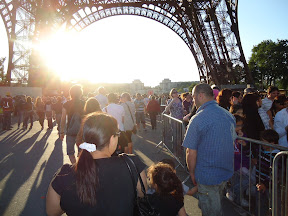 This was also where Jeff reminded us that he is deathly afraid of heights, so he was a little less than excited, but he was faking it well...
That all changed as the lift starting taking us to the middle section...
I felt bad, but it was pretty damn funny, and the faces got better...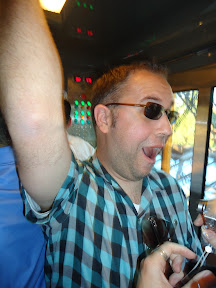 And apparently everyone else on our lift was afraid to because there were collective screams. Normally I am afraid of heights, but Jeff was cracking me up too much to worry about it...
You're doin great buddy!
We eventually got to the first stop and Jeff stayed pretty much near the lift while Bookie and I took pictures...
And just stared...
Then the sun started to set and it was just magic...
A once in a lifetime view and we were so luck to catch the sun setting
perfectly...
So much so that even Jeff came out to pose for pictures...
He might have been a little panicked about it..
Eiffel Monkey Arms...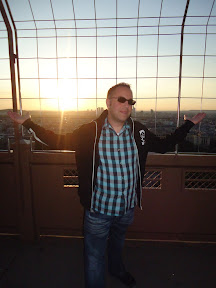 See Jeff conquered his fears...
It was truly just beautiful up there! Then we decided to take the 2nd lift all the way up to the top, and Jeff reacted like this...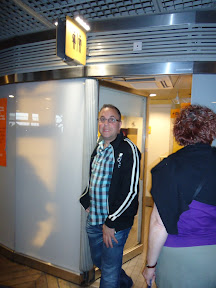 Le poo poo du beast!! He may have been a bit nervous, and for good reason because holy crap the top is high. There are no pictures in the lift because I was trying to stop Jeff from vomiting all over everyone.
But once we got up there, the view was truly breathtaking...
It's hard to put into words how beautiful it was up there...
We've had an amazing time in Paris...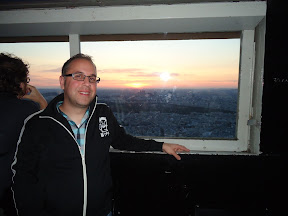 And even Jeff managed to smile for a few pictures...
Au Revoir Paris...
Je T'aime...
Now we are off to have "one drink", before leaving for Dublin in the morning, oh God!
Posted using BlogPress from my iPad
Location:One Million Miles Above Paris