After dropping off our stuff we headed out with Connor and Jurgita to walk through Temple Bar...
The weather here is beautiful right now and everyone is out and about enjoying it...
There were musicians everywhere playing Irish music, it was so cool...
I just love the energy of this city...
O'Monkey Arms...
Connor took us to this pub that Adam had heard about on the food network because they had like Oysters in their beer or something...
Connor had to leave, but he left us in the capable hands of Jurgita...
And she did not steer us wrong! Adam got his Oyster beer, which was delicious...
Jeff and I went for the fruity beers, shut it! I had coconut beer, amazing!
Look O'Banana Surprise! Jeff's tasted like banana bread...
And then I ordered a beer called the "Brain Blasta" and the nights shenanigans began because it made me feel like this...
From here we went to dinner and a billion bars so it's time for an O'Photo-o-thon!
First we somehow ended up in Philly on South Street...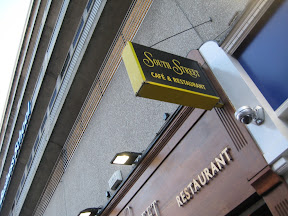 Where 75 bottles of wine happened...
O'No! Evil Leprechaun Jeff!
O'Blam...
That's about right...
That is where we met Furgal, Ken and Mo who were friends of Jurgita and super crazy and hilarious. We followed them to another pub...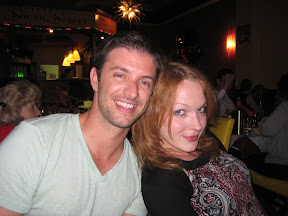 There was a live band playing at this one, it was called like Jelly Bean or O'Jelly Bean or something, I have no idea...
Jeff got confused with what to do with a Guinness, just O'Drink it!!!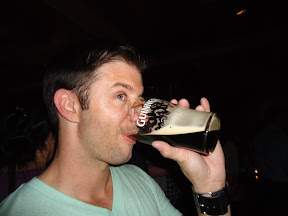 See, very easy...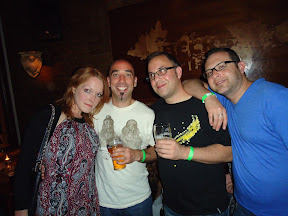 But it was time for Jurgita to head out, so she sent us to a bar called the Dragon...
I might have been a little tipsy already or I was just having a blast, one can never tell...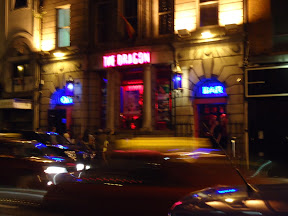 So we got to the Dragon and realized we were heading into disaster territory rapidly. To further illustrate my point, here is a series of photos of Jeff and I trying to take a nice picture...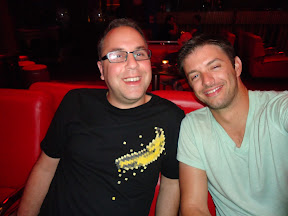 Nope...
Jeff is doing "skinny neck" and I somehow lost my eyes...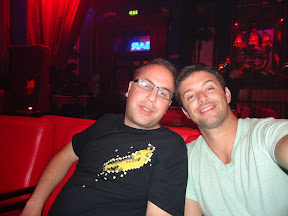 It just got worse...
Blurry was the best we could do...
Adam looked lovely on the first shot, no fair! And then we lost Adam...
Found him!
O'ahhhhh!!!
We gotta go before we O'Perish...
Seeing as it was 4 O'hectares in the morning we decided to call it a night...
The bunk beds seemed way more fun before I was O'Drunk. Off to bed tomorrow is our first full day of Shenanigans followed by dinner with Connor O'Connor and his girlfriend Fiona.
Posted using BlogPress from my iPad
Location:The Dublin Gutter