We had to get up super early this morning, which wasn't working so well because we were still having Absinthe dementia episodes. But we managed to make it on our flight and then in Heathrow we had to connect a billion times and take a train to get to our flight to Dublin...
Jeff, Adam and their light luggage might have been a little cramped on the train...
I was nice and comfy though, and Jeff also had a dementia moment on the train thinking about Paddington station and it being where a paddington bears come from...
Looking back it was barely funny, but at the time, Jeff was about to perish from giggles. We walked for what felt like 500 hectares (or is it billograms) I can never tell and we passed this sign...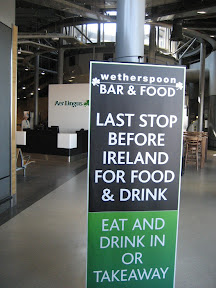 Huh? Apparently we are walking to Ireland instead of flying, F!
Thankfully Aer Lingus decided to help us out and take us to Dublin, where Connor O'Connor met us at the airport.
The boys were stoked to be able to be driven to the hotel instead of having to go by trains or taxis or whatever.
So off we went to Oneill's Pub! Yes we are staying above a pub because we are deviants, anyway we got there and it looked super fun, and there were even beer taps at the tables, how convenient!
Then a thing happened...
Apparently we are not staying here, but at the "other" O'Neill across town! O'F! So off we went to find the other one...
Eventually we found it and it was super cute, thank god, because I think the boys wanted to O'Kill me at this point...
Maurice the pub manager let us into our room, after Adam and his giant suitcase ripped a painting off the wall, hi we are gonna break this place! Jeff and I were excited about the beds...
Because we are apparently 6 years old. Connor O'Connor invited a friend to come meet up with us too, her name is Jurgita, or that is how I am spelling it because she is from Lithuania and I have no clue how to spell her name. Thats all for now, off to the pubs...for one drink! Or...
Posted using BlogPress from my iPad
Location:Dublin, Ireland