After our ridiculous Rickshaw ride (it is not our fault that we have no sense of direction and forgot our map) we finally met up with Alex and Ruth at the Green Carnation...
Alex, Ruth and I went to Uni together in Brighton 100 years ago. And like you do when you run into old friends you drink your face off! And this is when it started...
Cheers! This bar had ridiculous cocktails and it was happy hour!!!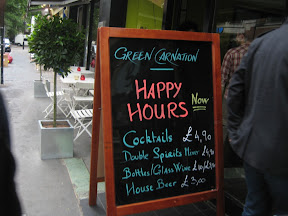 Which led to this...
And then all of these...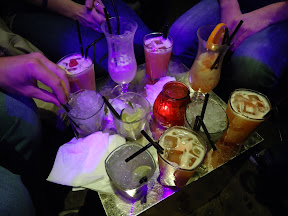 And Adam and Jeff starting doing bits...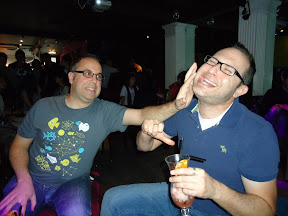 Really!! Hi it's day Zero! So I had to put them in check...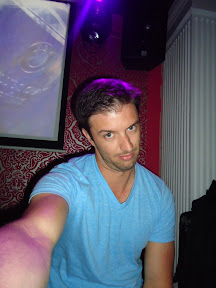 Oh and that is Alex's lovely boyfriend Alban who showed up mid drinkfest, and then we started and or continued our drink-a-thon...
And then somehow Jeff's camera exploded in my cocktail...
Son of a...
After the Green Carnation we tried to go to GAY bar but the queue was waaaay to long so we walked/stumbled down the road to this bar called the yard. It was basically a British version of the Abbey...
I can't even remember how many cocktails happened...
And then the night started getting fuzzy, well I should say fuzzier because I am pretty sure there was a food episode in there somewhere, except I don't really remember eating, we did get these though...
Mmm strawberry goodness, which led to this..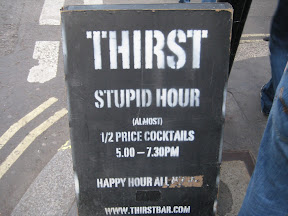 And eventually we ended up at GAY late for some cheesy pop dancing, good times. This is when my old room mate Louise showed up, aww Louise...
It was so great to see her, Louise and our other flat mate Miriam were like Three's Company, definitely great to see her. All in all it was a great first night in town...
This picture pretty much sums up the night, we were all super drunk and no one could focus to look in the same direction.
After leaving the club, we said bye to Alex and Alban, but not before we found a lone shoe on the street...
Who loses just the ONE shoe?!? Then apparently we headed out to grab a bite to eat and I say apparently because I don't really remember this part of the night...
I have no idea what happened from this point on, which I guess is the sign of a great birthday...
I apparently could barely keep my eyes open...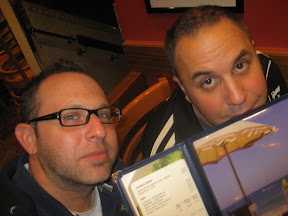 Jeff and Adam were still doing bits, clearly...
And then it went dark...
Which the boys found hilarious...
It turns out you can sleep standing up...
As well as you can in your clothes! Ugh, what a disaster, a brilliant first night of the trip!!!
Off to see Stonehenge in the morning and by morning I mean the afternoon because I am pretty sure this picture was taken at like 4 or 5am. Cheers!
Posted using BlogPress from my iPad
Location:London England