This may come as a big surprise but we were a little slow moving this morning and quite possibly still drunk. Getting Jeff and Adam moving was sort of like herding cats. Eventually we did make it to the train station and onto the train to Brighton.
Needless to say we were all a little tired and possibly cranky...
Adam felt better after his nice healthy breakfast of a bucket of coffee, tangy diorites and a Cadbury twirl bar, breakfast of champions! I was super excited to go to Brighton because I did my study abroad year here...
We got to Brighton with no hassle, well except Adam kept asking if we were in the chunnel yet and Jeff kept pointing to everything and asking if it was the Eiffel Tower, idiots!!
We hopped in a cab which freaked them both out because it was there first time driving on the other side of the road, and we had the best cabby ever because when Adam said "this is freaking me out, it's the first time I've been in a car!", the cabby replied with "ever?"
Clearly this driver must have thought we were all nuts or maybe Nell, you know that Jodie Foster movie. Anyhoo, we arrived at out lovely hotel by the water...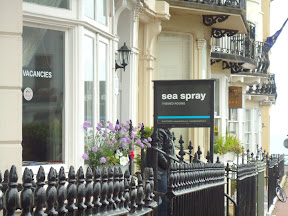 This place is made up of equal parts cute and totally crazy! We were booked into the "family boudoir room", yes that's right...
See it even says it on the keys...
This is for Mom and Dad style boudoir fun I guess, but Bookie and I took this room, no oohing Bookie!
And this is the other room, where we chucked Jeff because he shores like a wild animal...
Ad speaking of animals I'm not sure what to make of the feathers. After exploring our new abode we went for a walk to the pier...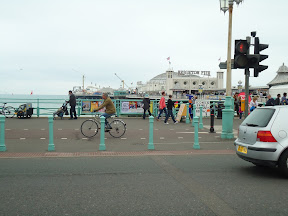 Aww Brighton Pier...
Oh how I've missed you...
Jeff was getting handsy with this fine lass...
Then we hit up the Arcade, I tried my hand at Deal or No Deal...
Things looked promising at first...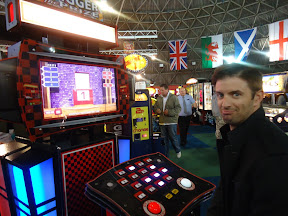 And then quickly went downhill...
I got 3 tickets which I think is the equivalent of spelling your name right on the SAT test, whomp whomp.
Then we saw this super crazy thing...
It was half way through the day and we hadn't done anything too stupid, well we decided to fix that...
Jeff and I were too scared to do it solo so we held hands and did it together. If I'm goin I'm takin someone with me...
And holy crap it hurt, my hands are still vibrating from it...
So of course we made Adam do it by himself...
I think it hurts more with one person...
You're doin great buddy!!
We strolled around the seafront a little bit more...
I don't know why this picture makes me crack up, it was some disco ball are thing, but I think it works better this way...
After the pier we wandered around in the Lanes, it's a shopping area in town and grabbed a bite to eat...
It was also about 3 degrees in town, or 3 kilograms according to Jeff...
Mmm Guiness in a fancy mug...
And for those you who think that things over here don't have a U in them SEE!!! Now it's food oclock before we head off to meet some of my old room mates and then it is off to Paris tomorrow!
On a sie note, Jeff thinks that this is how you get to Paris! IDIOT!!!
- Posted using BlogPress from my iPad
Location:Brightoun, England