After my lovely nap we started getting ready for my birthday surprise, that is no longer a surprise because Jeff told me, dinner cruise thing. But then a thing happened, as it always seems to happen with us.
Jeff told me "oh where are your fancy shoes because this place has a dress code. WHAT!?! I was not told there was a dress code and I only brought one pair of shoes and they are cute but not fancy...
It apparently explicitly says on the website that they will turn you away if you are in sneakers!! Jeff insisted that he told me (which he didn't) and then he also realized that he didn't tell me, ya we are F'ed! Birthday ruined!!
Oh and a little back story about the title of the post, Jeff was drunk one night and tried to tell me that Careless Whisper by George Michael was playing, except when he told me he said drunkenly "guilty feet have got on rhythm" instead of "guilty feet have got no rhythm". Thus a bit was born!
And seeing as I had guilty feet tonight it made sense for this post. Our plan was for Jeff and Adam to distract the people when we got to the boat and I would sneak by, oh ya this isn't going to end well...
So we head down to the Embankment Pier, I was in charge of directions since Jeff and Adam are still lost...
And we got to the boat and the plan was in motion!!! And to our absolute amazement...
It worked!!! They let the deviants and the shlubby guy on the boat! And to make it even more amazing, and i kid you not but the first song playing when we got on the boat was a muzac version of Careless Whisper!!!
It was beautiful, riding down the Thames at sunset...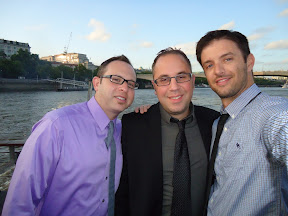 We got to see a lot of the sights along the river...
Ooh Big Ben, Parliament...
And Tower Bridge...
And dinner was amazing! I had Sea Bass with some sort of sauce, it was delicious...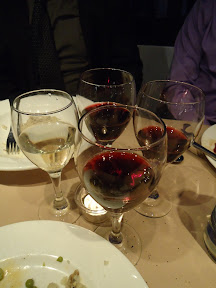 Oh and did I mention the meal included unlimited wines, oh God! This was an amazing birthday dinner, but we were all a little sad that Jon couldn't be here with us, so we did a toast to Jon (gurl, that is your white wine, drink up!).
They even had a band playing music, I might have been a wee buzzed and singing...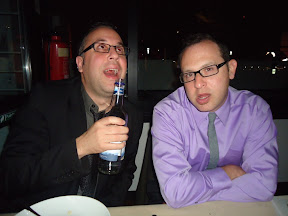 So was Jeff! Adam was less than amused...did I mention unlimited wine?
All in all an amazing birthday. I'm ready to go to bed, but Jeff just said "let's go out for 1 drink!"
Why do I smell a vagaster brewing, oh God! Cheers!!
Posted using BlogPress from my iPad
Location:Birthday-ville, England