So of course this morning was already a disaster. We overslept and had about 10 minutes to get ready to go to the airport to fly to London. I was excited to finally see Jeff and Adam, and it worked out perfectly because we were all scheduled to arrive at the same time.
I said bye to B-rad and his parents, they were sad to see me go...
We had a blast in Italy and I'm gonna miss Brad...
But I was stoked to see my idiot friends. I hustled all the way over to Terminal 1 which is so far from Terminal 5 that it's like in France.
Anyhoo I get there all excited to see them and a thing happens! It turns out they are like 4 hundred years delayed, F!! So I pretty much sat in the airport forever...
Thats the arrival hall at noon...
And at two, still no friends, whomp whomp...
And here it is at three, it's hard to see but there is a pigeon up there, even a freaking carrier pigeon made it before they did.
But finally they showed up...
They were none too pleased, but they were pretty excited about being in London. They were kind of on the loopy end of things too. (There was a Cockfosters bit but I'll let one of the boys take that one.)
So we were doing great on the tube heading to the hotel, and of course we had to switch at this station...
I'm surrounded by dirty Kenzos...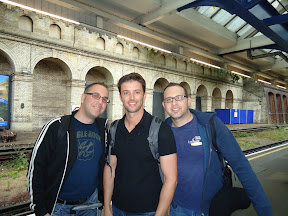 We finally got to our hotel and we started getting ready to go out for the night, except Jeff had a thing with the ironing board...
Does it work this way...
Or maybe this way...
No it works like this...
What the he'll is happening...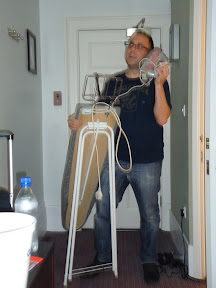 Oh yeah and the pictures were all blur because I couldn't stop laughing...
Adam and Jeff are having a rough time adjusting to life across the pond. They also only brought a charger for Europe and not the UK, so there is that to deal with too. Idiots! But Adam almost peed he was so excited to hear the AOL woman suddenly be British when he checked his email.
Thats all for now, off to the pub, because clearly booze is what we need to stop being idiots! Cheers!
Posted using BlogPress from my iPad
Location:Loundon England