Soo we woke up this morning around 10 which was about 7 minutes after we fell asleep/passed out and had a hearty game of "what the he'll happened last night!?!"
I somehow managed to get a small cut on my forehead and after examine the evidence (ie the pictures) we determined that I somehow got in a fight with myself in my sleep and lost.
The plan was to go to Stonehenge, but a thing happened. I turns out Sunday is not the day to travel by train, because just like us, the British Rail System was broken and too lazy to work!
We decided instead to walk around instead which is when we realized the hangover hadn't started yet...
Ugh, we were all definitely hurting, thank god for sunglasses...
As we walked we were enjoying the lovely scenery...
Ooh the Thames and the London Eye. Jeff and I were enjoying the view, while Adam had other things to look at...
Of course he was looking at busses! It was his loss because he missed this lovely view...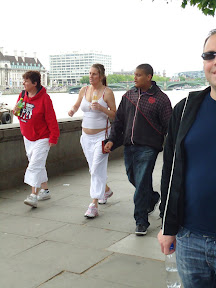 Now that is a classy dame! And this...
And then we literally stumbled onto this...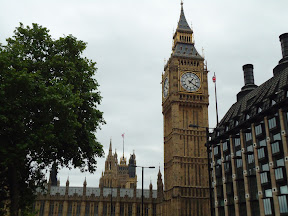 Big Ben...
Hi I'm gigantic in this picture...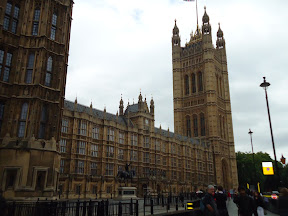 And Parliament! Very fancy...
It was at this point that Jeff pointed out that we were all pretty starving...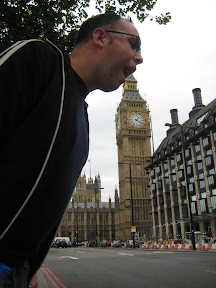 See! Jeff tried to eat Big Ben, NYO!!
We wandered around in a booze filled haze until we came upon a nice little pub where we got fish and chips the size of our head...
It was pretty hard to eat because we were all exhausted, I just wanted it to be in my stomach already.
But the food did help us start the slow process of returning to the land of the living. Jeff even felt invigorated enough to try more bits, one with one of the guards near Parliament...
The horse was NOT a fan of his shenanigans, and I did fall for this bit when he asked me the time...
I'm very tired and didn't notice Big Ben! On that note we are heading back to the hotel to nap, well I am, Jeff and Adam are going to go shopping down the street looking for jackets because it's 1 degree here! Cheers!
Posted using BlogPress from my iPad
Location:Drunksville, London